Signs Your AC Was Damaged in a Storm
August 18, 2021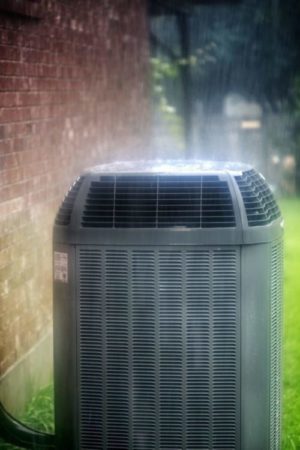 Since air conditioners are partially exposed to the outdoor environment, they are prone to storm damage. Consequently, it is recommended to examine your AC unit immediately after severe weather. Examining your air conditioner as soon as a storm has passed will help you avoid serious equipment damage in the long run. In case you have not had a chance to inspect your AC system for potential storm damage, here are some tell-tale signs to look for.
Reduced Equipment Efficiency
Reduced cooling efficiency is one of the obvious signs of a damaged AC unit. There are several reasons your AC may suffer a reduction in its effectiveness after a storm. For example, inefficiency may be a result of cracks or even breaks in the refrigerant lines. Also, power surges may cause serious damage to crucial components, interfering with the AC's functionality.
Additionally, a collection of debris on the outdoor unit can clog the fan mesh. This can reduce airflow into the system, leading to reduced equipment function. If you realize that your AC is not as effective as it used to be, it may be necessary to diagnose different parts of the unit. Contacting a professional HVAC technician who can perform this inspection would probably be your wisest move. For customers living in or around Beaumont, Reed Service Company can handle this task.
Burning Electrical Smell
The smell of burning electrical components is an obvious sign of a short circuit or faulty wiring in your AC. The problem may have been caused by a power surge. This kind of damage is common during storms when power tends to spike. If you notice the smell, it is advisable to consult a technician as soon as possible. The issue may lead to more severe problems. It's best to discontinue using the AC until it is inspected.
Strange Noises From the AC's Outdoor Unit
There are several storm-related reasons your outdoor could be emitting a strange noise. The reasons include broken refrigerant lines and the lodging of debris in the equipment. You'll notice bubbling or hissing sounds if the refrigerant lines are broken. On the other hand, you will hear a rattling, screeching or buzzing sound if the unit is clogged with debris. Either sound is a sign of damage and should be addressed promptly since it can result in unnecessary losses.
Physical Damage
Physical damage is usually easier to spot than other signs. This is the first thing you should look for when inspecting your air conditioner. Although outdoor air conditioning components are designed to withstand harsh conditions, extreme storms can lead to physical damage such as displacement of the condenser unit or disconnection of electrical wires. Such an obvious symptom is often an indication of more complex issues in the unit. In addition to that, you may also notice mud buildup on the equipment. It's a strong clue that water could have gotten into the unit. In this situation, it's advisable to schedule an inspection before you resume using the air conditioner.
Ice on the Evaporator Coil
If you notice ice forming on the evaporator coil during hot weather, you should consider consulting a technician. Usually, the ice forms due to leaking in the refrigerant lines. The AC's refrigerant lines are crucial elements of your unit. They help transfer the refrigerant from the condensing unit to the evaporator coil and back again, and they should always remain intact and in good condition. However, extreme storms can damage these lines. Failure to fix this damage in a timely fashion could disable the entire system.
Powering and Control Issues
Storms sometimes provoke power surges that could destroy one of your air conditioner's essential components like a capacitor or the control system. As a result, you may experience difficulties starting the AC or adjusting it to the desired temperature. You'll need professional assistance to diagnose and correct this problem. It doesn't lend itself to a DIY fix.
Air conditioners vastly enhance our indoor environment, so keeping them in optimal condition is essential. The best way to ensure this is to schedule regular inspections and maintenance with professionals like those from Reed Service Company. We've been assisting the residents of Beaumont since 1974, and we're certified by the BBB with an A+ rating. Our NATE-certified technicians are ready to perform any heating, cooling or indoor air quality installation, repair or maintenance you require. If you suspect your AC has sustained storm damage or you'd like to discuss any other HVAC need, call us today.